If youre thinking about relocating to Grand County, its important to familiarize yourself with some of the top
Colorado real estate trends
. In the last few years, Colorado has been a top destination for people looking to move. This increased popularity has driven prices up, particularly in mountain towns. As more people enter the remote workforce, these telecommuters have spread away from cities and into the mountains. Here, weve compiled a guide to the most significant trends to help you understand the states housing market.
After youve become acquainted with
Colorado real estate trends
, check out our activities pages. Youll never want to leave Winter Park once youve read about our
Winter
and
Summer activities
. No matter what the time of year, living in the mountains is a thrill!
Top 5 Colorado Real Estate Trends
Prices Are Increasing
Over the last year, the cost of homes in Winter Park, CO, has risen significantly and is expected to continue to increase. Real Estate of Winter Parks data shows a similar pattern in the chart below. Since 2015, the median price on properties in the Winter Park area, including Fraser and Tabernash, have steadily escalated.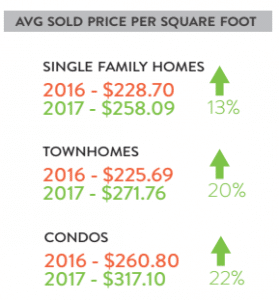 The increased price of homes, townhouses, and condos is partially due to the difficulty and
high cost of building in the mountains
. Because its expensive to develop new properties, the ones that already exist are becoming increasingly valuable. Though prices overall are on the rise, Winter Park property is significantly cheaper than other popular mountain towns.
Ski In/Ski Out Properties Remain Desirable
Because one of the biggest draws to living in the Winter Park area is proximity to ski slopes, properties with the ability to ski directly to the mountain are in high demand. This Colorado real estate trend doesnt seem to be changing anytime soon. Properties with this feature tend to be condos or townhouses.
Additional Sleeping Accommodations
Many people purchaseproperty in small mountain towns like Winter Park as vacation homes. Buyers tend to seek out properties with extra sleeping room to accommodate guests. Vacation homes are often rented out during the year when the owner isnt using the property, so the additional room is beneficial both for the renters and the guests of the homeowner. Examples of homes with extra sleeping areas include condos with pull-out sofas or homes with a spare living room that can be converted into a sleeping area.
Condos with Extra Amenities
One major attraction to the many condos in Winter Park is the additional services offered. Condos that promise access to a gym, pool, hot tub or any other amenity are more popular. Its likely that this Colorado real estate trend will continue. As prices rise, people want to feel as though they are getting something for the extra money they are spending.
Downtown Living is Expanding
More housing options in Downtown Winter Park have been springing up as of late. A community of townhomes called
Arrow
is currently being developed in the area with 3- and 4-bedroom units. This project is just one of many examples of the expanded housing. Because Colorado has experienced an influx of young people moving to the state, this trend favoring downtown may continue and aim to appeal to this new generation.
Welcome Home to Winter Park
With your newfound knowledge of Colorado real estate trends, you now have the option to make Winter Park your new home! Though prices are on the rise, its not too late to get in before housing costs increase further. Not only will a mountain home grant you peaceful, comfortable living, but it can be an excellent investment for the future. Real Estate of Winter Park would love to help you locate the perfect property for you!
Large families will love
this 7-bedroom home in Tabernash
! In the evening, cuddle up next to the gorgeous red sandstone fireplace in the living room with vaulted ceilings. Enjoy the incredible mountain views through the wall-length windows. When the weather warms, open the French doors to your veranda. The master suite is located on the main floor close to a large laundry room, and there is a 3-car attached garage.
Browse a complete catalog of our available properties
and start planning your move to Winter Park today!